COMPANY
As a company, we are committed to making good food better. We believe in innovation as a way to grow and benefit our communities.
For over a century, our family business has thrived in the foods sector, due to our innovative outlook.
Although we have a proud Italian heritage, we have embraced a multinational approach and along with our base in Italy we now have offices in the UK, Brazil and Australia, while we distribute our products to over 40 countries worldwide.
Our range of authentic Italian food products represents 6 different product categories (tomatoes, legumes and vegetable products, sauces, condiments and grain products) and in each category we remain dedicated to delivering top-quality taste and nutrition, as well as attentive solutions in terms of sustainability and client service.
VISION

VISION
MAKING
GOOD FOOD
BETTER
As a leading innovative food company, we continually strive to make good food better.
Good; meaning nutritious, sustainable and of excellent taste.
Better; meaning that we use quality, healthy, and ethically sourced ingredients, while adopting safe, environmentally responsible and fully traceable manufacturing processes, using innovative and sustainable packaging solutions, and applying labelling that is distinctive, transparent and informative.
MAKING
DEVELOPING
MANUFACTURING
MARKETING
GOOD FOOD
HEALTHY
SUSTAINABLE
BETTER
INGREDIENTS
PACKAGING
COMMUNICATION
VALUES

VALUES
WE LOVE
WHAT WE DO
Be passionate: we are passionate about our products and what we do
Aim high: we are enthusiastic, we think about the most we can achieve and we go for it
Be positive: we are proud of what we do and happy to tell people about it, and we celebrate our achievements
Be fair: we are true to our customers, fair to our partners and responsible towards our communities
Think long-term: we do not take shortcuts; we are building a sustainable business to hand over to the next generations
"Coppola Foods: This innovative Italian food company has not only won a number of food industry awards, but is also successful due to their focus on fairness and responsibility to customers, partners and communities alike." (Financial Times' FT Future 100 UK – 2018 List of companies that are making an impact, either on society or their industry)
COMMITMENT

COMMITMENT
B-LIEVING IN DOING BUSINESS
THE RIGTH WAY
Coppola Foods aims to become a fully certified B-Corp business.The first step to achieve this has been the adoption in 2020 of the legal status of "Società Benefit" ("Benefit Corporation") for Coppola Industria Alimentare Srl in Italy and the commitment to B-Corp values in the company statute. A B Corp is a company that, while doing business, produces positive effects on the environment, territory and people. Our guiding principle is the creation of value for the actors involved along the supply chain, through a process of continuous improvement.
In particular, we pursue objectives of common benefit by focusing on our products, people and communities.
Product
Develop healthy and quality products and use ethically sourced ingredients
Adopt safe, environmentally responsible, and fully traceable manufacturing processes
Promote solutions that encourage the dematerialisation and sustainability of the packaging used
Communicate the properties and origin of the products in a transparent and informative way
People
Promote the personal and professional growth and development of people within the company
Support the mental and physical well-being of people within the company
Promote a work environment that is peaceful, inclusive and that values diversity
Community
Promote the local territory, its resources, culture, and traditions
Create economic, productive, and social development opportunities for the local community
Improve eating habits by advocating and supporting education for a healthy lifestyle
HISTORY

HISTORY
FOUR GENERATIONS OF
FOOD ENTREPRENEURS
We are a fourth-generation family business with a long heritage in the production and marketing of food products, dating back to 1903 in Salerno, in Southern Italy.
1903
Gerardo Coppola establishes a food-trading and serving business in Fontana Formiello in Mercato San Severino

1936
Ernesto Coppola Sr. takes over the trading business from his father and expands the trading activities to include pasta, grains and legumes
1952
Ernesto Coppola Sr. sets up a cannery in Mercato San Severino and starts canning the ripe and flavourful San Marzano tomatoes grown in the area on an industrial scale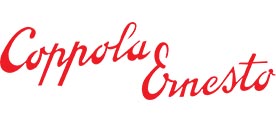 1969
Eugenio Coppola joins his father and brothers' tomato canning business and oversees its growth and expansion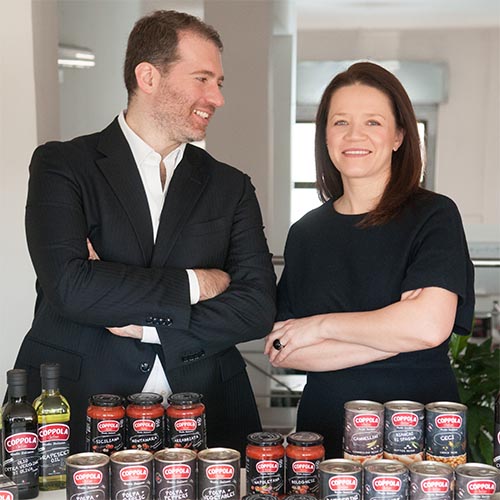 2012
Ernesto Coppola and Maria Suleymanova establish Coppola Foods with innovation at its heart to develop the Coppola brand worldwide

2015
Coppola Foods sets up a distribution platform in Latin America, Coppola Foods do Brasil, headed by Andrea Carpentieri
2018
Coppola Foods opens a commercial office in Melbourne, Australia, later incorporated as Coppola Foods Asia Pacific Pty Ltd, to serve the Asia Pacific region.
2021
Coppola Foods opens a commercial subsidiary in Dover, Delaware, USA, Gourmica North America LLC to serve the US market.